You're passionate about making a positive difference in the world. Whether you're a for-profit with an exciting global vision or a local non-profit transforming your community, you know you can make a greater impact — if you can only reach more people with your message. But it can seem next to impossible to cut through the noise.
Are you proud of the impression your website makes on new visitors?
Does your online content build trust, drive traffic, and most importantly deliver measurable results?
Does your content shine a bright spotlight on your proven successes as well as your expertise?
If not (or if you're not sure) we should talk!
Hi. I'm Leanne.
I've been an entrepreneur, teacher, and writer most of my career.
I've helped a local educational startup secure grants for international programs.
I owned an allergy-friendly bakery long before it was cool.
I ran a music school for 14+ years.
I've taught business, economics, and statistical demand forecasting.
I wrote some viral blog posts and grew a blog that helped creative entrepreneurs to make more money doing that they love.
But I always wanted an online business. So I dove into content marketing and SEO and studied with some of the top experts on the web. I wrote several viral blog posts and grew a blog that helped creative entrepreneurs to make more money doing what they love.  My writing got noticed. And much to my surprise, people began hiring me to write for them. My blogging efforts launched me into a completely unexpected direction (but one I'm very happy with today.)
These days I use my superpowers to help change makers make a bigger impact by growing their authority and trust.
See, when you're a public speaker or performer, you only have a few precious seconds to grab people's attention, connect with your audience, and try to get a reaction before they get bored and move onto the next diversion. Online content — or expert books — are no different.  I like to imagine that my ultimate goal is to get a standing ovation from my readers. I want them to think, "Wow! You do understand. It's like you're reading my mind!"
My mission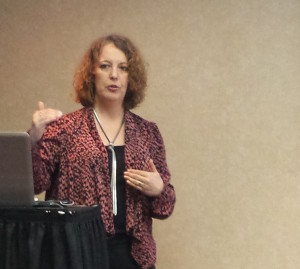 I'm passionate about helping purpose-driven businesses and organizations whose success depends on building trust and authority in the marketplace. I accomplish this by helping you to plan and create strong, compelling content that grows your engagement, attracts excited and responsive leads, builds a loyal customer or follower base, and positions you as the go-to expert in your space.  And I'm not here to collect a paycheck and leave once your assignment is completed, either. Instead, I partner with you longer-term to make sure that you get meaningful results and a positive return on your investment.
How I Help
If we're a good fit to work together, we'll analyze your goals and the best ways for you to reach them. At that point, we'll decide how to move forward with:
An achievable, results-oriented content strategy
Online content that Google — and most importantly, your readers — will love
Your attention-getting non-fiction expert book
SEO-focused audits of your website and content, or
A customized solution to meet your specific marketing goals
When you book a strategy session with me, the plan we come up with is yours. You can implement it yourself or have me (or someone else) help you to implement it. Either way, you'll be one step closer to your goals.
But you don't have to take my word for it.
What My Clients Say
I'm still building out this page, but for now you can see how I've helped other clients here.
Join me
Imagine an online presence that attracts your perfect clients, customers, or supporters 24/7.
Imagine no more wasted time and effort on tactics that aren't working for you.
Finally, imagine reaching those online marketing milestones that have been eluding you.
I'd love to help you make a bigger impact. It's why I get up in the morning.  So set up a time to chat and let's talk about your next steps.