Why fast, consistent, high-quality training is now a critical competitive advantage
Online learning is a hot topic these days. There's a whole lot of buzz about how massive the e-learning market is and how online courses are growing.
Online learning is experiencing a 7.9% annual growth rate in 2012-2016.
The total online learning market is estimated to be $51.5B by 2016.
And organizations are hiring specialists. Corporations are now outsourcing 42% of their training services.
The reason?
Educating people online with your outreach and marketing efforts and creating e-learning and online courses are an excellent way to achieve meaningful results in a short time.
Technology makes learning accessible to anyone with a laptop or mobile device.
And it touches all aspects of your business:
Your Consumers and End Users – Building trust and authority are important parts of your sales process. Improving peoples' lives through education attracts lifelong customers better than aggressive sales tactics.
Your Clients and Partners – Technology, products, services, and markets change quickly. You need to keep your clients and partners updated on the latest developments so that your cooperative efforts stay profitable.
Your Employees – In fast-changing environments, you must invest in employee training or risk being out-paced and out-maneuvered by competitors.
Your Industry – Today's market leaders know their customers and respond to their needs. They use articles, presentations, books, and training courses to establish themselves as authoritative, trusted, go-to experts in their industry.
The problem is, even though everyone's talking about online learning, few people are talking about how to do it right.
That means taking your content from good to great, and making continuous learning a competitive advantage.
My mission

I help organizations effectively use education and training to build loyal customer relationships, establish industry authority, and achieve measurable results to their bottom line.
Hi. I'm Leanne.
I've been a teacher, trainer, and writer all my life.
I've taught in university classrooms, corporate meeting rooms, and on shop floors. I've held live workshops, taught private music lessons, and created and facilitated remote e-learning sessions for worldwide audiences.
I started getting my writing out to the world when I launched my blog at Make Creativity Pay. Next thing I knew, people were hiring me to write for them. Talk about an unexpected turn of events!
Here's my work philosophy:
My personal creed
Learning must be fun, engaging, and memorable.
People need frequent, small wins. Success leads to more of the same.
My methods are flexible. My #1 job is to help you succeed, not to follow someone else's formula.
My pet peeves
The world doesn't need more pretentious, confusing, and boring writing.
It's pointless to create slides that are crammed with information and unreadable (so I won't).
Instructors should care more about helping people than about proving how smart they are.
And because I care about excellence and getting results for my clients, I make it a point to constantly grow my skills:
I study powerful writing and marketing techniques with the best mentors I can find.
I've grown an online audience of 6000+ followers with my blog, podcast and numerous viral blog posts.
I've received stellar reviews from students and clients.
I've completed Advanced Training and Train the Trainer certifications.
But you don't have to take my word for it.
If there's a perfect set of qualities for a writer, Leanne Regalla has them all. Because of her career as a corporate trainer, she knows how to put herself in the role of the audience and what they need to understand. Leanne has produced a variety of content from video tutorials, interviews and screencasts to short courses, sales pages and marketing funnel copy, always on deadline and with a smile. If you get a chance to work with Leanne, I highly recommend her. – Marsha Stopa, Assistant Instructor, Coach, and Community manager, Smart Blogger.

Leanne is an excellent writer and facilitator. She uses hands-on examples to engage learners. She is professional, approachable, well spoken, and articulate which encourages teamwork using a leadership style that is non-threatening. Leanne is one of the best at translating technical information into user-friendly documentation, work guides, training tools, etc. I was consistently satisfied as Leanne would assist me and frequently conclude our sessions with a question to validate our needs were met. – Kimberly Frew, Commodity Manager, Zodiac Aerospace (formerly of Eaton Corporation).

Leanne was one of our best trainers. Leanne personally developed all of the training material for the Demand Forecasting module of our Materials Management training and was well known as our expert in the matter. She had the ability to create content for a complicated topic in a way that made it easy to deploy to other trainers and to deliver to trainees. Her training evaluations were consistently great. – H.L., Supply Chain Manager, Eaton Corporation.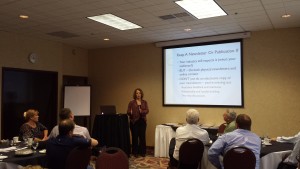 Industries, Interests, and Specialties
I can help you with authoritative articles and blog posts, presentations, books and e-books, as well as case studies and courses on the following topics:
Online Business, Podcasting, and Blogging
Manufacturing and Supply Chain
Business and Entrepreneurship
Online Marketing and Sales
Women in Business, Sales, and Marketing
International Business, Culture, and Language
Creative Entrepreneurship
Health, Nutrition, and Fitness
International Charity and Microlending